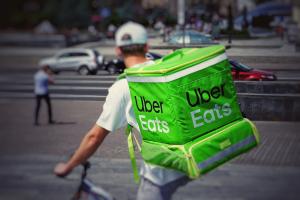 Want to be a restaurant owner?  Ghost Kitchen is the answer.
So you want to open a restaurant?
Are you in love with the idea of owning a fast-food restaurant and passionate about the food industry?
But what's stopping you from turning this dream into reality? Investment, experience, risks, kitchen nightmares, bureaucracy?
Well, the advent of technology has made this simpler. Heard the buzz around Ghost Kitchens? Now is the time to open a restaurant virtually.
The Rise of Food Delivery Business.
Food delivery apps like Deliveroo, Uber Eats, Just Eat have welcomed us into this comforting world of food delivery from the restaurant kitchen, right at to our doorstep in minutes with a few clicks. With a plethora of choices, from restaurants to cuisines, this is surely bliss. One can customize a pizza or a sandwich and need not talk to anyone, simply select the choice of bread, spread and filling on the user-friendly application and put a note for the chef in case the choice is not available.
The food delivery business is ever booming and thanks to the entrepreneurs it has given impetus to this appetite for delivered food. The popularity of the delivery industry has spawned a whole new form of a concept known as "ghost kitchens," which is attempting to cash in on the trend.
What is the Ghost Kitchen Concept exactly?
Well wondering what a ghost kitchen is? Surely, there is no ghost in there, visualize a restaurant sans tables, chairs, elaborate paper menu, servers, etc that has a professional cooking facility, prepares food for delivery and delivers either directly to the customers or via third-party delivery companies but does not have a dining space. Groundbreaking, isn't it?
This business model helps in the expansion of the restaurant business without involving high upfront costs and with the help of the food delivery services, they reach their end customers. This opportunity has stimulated the interests of entrepreneurs, restaurant operators around the world.
How is this affecting the restaurant industry? It is helping the aspiring restaurant owners to provide delivery-only service without worrying too much about the location, kitchen facilities, paper menus, advertising, human resourcing, setup costs and so on.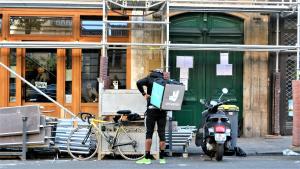 Who are the popular and successful Ghost kitchen companies in the UK?
Karma Kitchen in London, Foodstars, Jacuna kitchen to name a few. Online delivery platform, Deliveroo, has launched its version of the ghost kitchen or dark kitchen called Deliveroo Editions. It helps restaurants with preparation cooking facilities set up for the preparation of delivery-only meals.
How can you start your Ghost Kitchen business?
There are two ways you can start your business:
Set up your Ghost Kitchen – This is a higher capital investment as you have to build a kitchen space that you operate or rent out. Check Karma kitchens in London.
Rent a kitchen space to start your Virtual Brand – Low on investment, not too much headache around permits and licenses. The cost varies depending upon the unit, shift and days you rent out for. Check Taster, a collection of online restaurants, 5 digital restaurant brands and 52 digital restaurants in 6 cities in the UK and Europe.
Why should you consider investing in a Ghost Kitchen?
Ghost kitchen benefits are many, here we list the most important ones:
Low start-up costs – The cost of setting up a new restaurant is no joke. With a ghost restaurant, these costs can be cut down drastically. Lower operating costs or overheads and lower startup costs is the USP of the Ghost Kitchen Spaces.
Exploding Food Delivery business – The demand for restaurant-quality food delivered at home or office has been increasing like never before. The industry has reached a new age with the introduction of online ordering technologies and restaurants that specialize in delivery. The UK market of the food delivery industry alone stands more than £8.5 according to a recent Statista report.
Easier expansion – For the traditional restaurant business, this is an opportunity to expand and reach more customers. With the changing customer demands, it becomes necessary to adapt quickly. There are two benefits for the established restaurants with dining-in service. One, fewer risks involved in expansion as they can save on real estate prices and operations cost as the delivery-only kitchen need not be in a prime location. Two, as customers recognize them and they enjoy a loyal customer base, customer acquisition is not a challenge.
Food Safety and Ghost Kitchens
In the food industry, the 4 C's of food hygiene are Cleaning, Cooking, Chilling and Avoiding Cross-contamination. Food hygiene and safety are always a top priority for the customers. When a customer visits a brick-and-mortar restaurant, he can find for himself the hygienic conditions at the restaurant. Virtual restaurants of established restaurants/brands are easily trusted by customers, but for online restaurants or delivery-only kitchens, customers go by the reviews and ratings.
There are certain food safety standards that Ghost Kitchen Brands need to abide by just as Brick-And-Mortar restaurants as per the Food Safety Agency.
The chances of cross-contamination are higher in the Ghost Kitchen model as the kitchen facilities such as fryers, chillers are sometimes shared by numerous restaurants.
Also, platforms like Deliveroo require a minimum rating of 2 to be met by restaurant partners which points out the growing food safety concerns as delivery-only restaurants are the future of the industry.
Considering opening a virtual kitchen or expanding your existing business? We at Food Safe System can help you with your HACCP, Checklists and temperature monitoring in your brand new kitchen while you focus on new menu items and delighting your customer.
Photo Credits: Carl Campbell on Unsplash, Robert Anasch on Unsplash
Last Updated on 6 October 2021 by FoodSafeSystem